I grab the following pictures from the Angie Everhart thread in the forum: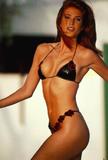 Someone, ANYONE, answer me this – HOW THE FUCK DID JOE PESCI HOOK UP WITH THAT?
After a nine month engagement Joe Pesci broke it off with Angie Everhart. And what did she do? She subsequently got herself busted for drunk driving
QUOTE(hollywood.com)
Actress/model Angie Everhart has been arrested for drink driving – just days after splitting from longtime love Joe Pesci.
The 38-year-old was arrested shortly after 2am last Thursday in Los Angeles after failing a sobriety test.
I'm not really saying he doesn't have anything going for him. I mean, he's Joe-Fuckin'-Pesci. But HER?
I'm guessing that after Stallone and Stern, Pesci may have been a breath of fresh air.
Or she enjoys a little variety in her life. Face it, a hot chick like her and websites like hotchickswithdouchebags.com gives hope to all us Sad Sacks out there.